We went back out to the Pan Am highway for further travels to our old stomping grounds.  As we waited there at Los Cipresales,  so called that because of the cypress trees there a few buses stopped but were not going where we wanted to go, so it was a little while before any of the right buses stopped.  One was a Tacana that tried to get us to go with them.  I noticed that Vernon didn't seem too anxious to ride that one, but  I just figured it was because it was too full.  Shortly afterwards, another Tacana stopped.  Since it was going to Los Encuentros and on to Xela  and was nearly empty I said to Vernon,  "let's go on this one." He still hesitated and said something to the effect, "do we want to ride a Tacana?"  I didn't understand why he didn't want to go especially since this one wasn't overcrowded.  Of course, the bus boy could see we were debating and encouraged us to get on.  So Vernon said alright and we got on.  Vernon and I sat right behind the driver and the girls each found a seat behind us.
Off we roared, up the mountain toward Chichivac  at the top, and around the many curves.  This highway is now a 4 lane highway and is lovely.  I am not sure how many curves if any, were removed when they put in the 4 lane but if my memory serves me correctly there is at least 15 or 16 curves up that side of the mountain.  (I honestly believe there are more than that but I don't want to stretch the truth.
) I once knew how many curves were between Tecpan and El Novillero where we lived for 13 years but I've forgotten but think it was around 130.  Mile wise…hmm.  Tecpan is about km 90 and Novillero is km 144.5.   Anyway, back in our time it took us an hour to get from Novillero to Tecpan.
We weren't on the bus very long until I realized why Vernon was so reluctant to ride a Tacana.  It has the reputation of being on of the fastest bus lines between Guatemala City and San Marcos.  He wasn't sure that we were up to that kind of speed.  We never figured out why we were traveling almost empty when another of the same bus line was overcrowded just ahead.   We never did catch up to the other bus which was only about 5 minutes ahead of us when we left Tecpan but it seemed that the bus driver was trying his level best to do so.
I was hanging on for dear life!  Kendra Lily and Tiana were enjoying their ride but I think I would've had my fingernails gnawed to the quick if I hadn't been hanging on so tightly.  I noticed the shape of the handrail in front of us.  "Look," I told my family, "I think Aunt Pam must've been riding in this bus before us!"  I looked for a hole in the floor where she had been trying to put on the brake but couldn't find any.
We made it up the mountain, back down the other side and through Los Trampas  (the part of the trip called the Traps because of how foggy it becomes during the night.—–how well I remember traveling that stretch and only knowing where we were by following the right line on the edge of the highway for a guide—-it can be very dangerous to navigate.)  This time it wasn't night nor foggy but the bus driver took those curves like the devil was chasing us.  He would go around the curves to the left and hang onto the window frame then take the next curve to the right and hang onto the door opener to keep from sliding off his seat!  We made it to Los Encuentros  (The Encounters, where the road to Quiche meets the Pan Am Highway) in 30 minutes flat.  It had been one of the few really hair-raising bus rides I've had.  Another was one out of Quiche…..those buses are notorious for reckless driving on hairpin curves.  I did it once in an emergency and the emergency would have to be a whole lot greater for me to take that risk again!  Of course, the story that was floating around this time of a bus going off the road and down into the barranco killing over 50 people didn't help my nervousness any at all!  Kendra Lily pointed out the saying on the front of the bus and asked me if I wasn't glad that it was true.   Believe me, I was.
At Los Encuentros, we got off the Tacana, with alacrity on my part and immediately boarded another bus bound for Solola.  This bus filled up rapidly and soon we were headed down to  that town.  Solola was the capital town of the department or state of Solola where we lived.  This was our market town where we did our marketing when we lived in Novillero.
This town is also where Wycliff Bible Translators have an audio and video productions for their work.  It was through this that we met our friends Paul and Cheryl Bendele in 1993.  They were living Guatemala City part of the time and knew Anita Ovalle who was teaching in Wycliffe's school.  They needed a midwife and asked Anita if she knew of any.  She referred them to us and I became Cheryl's midwife for their son Elisha who was born in Feb. 6,1994.  Paul's co-worker Pedro Bocel and his wife Cristina were also expecting a baby at the same time and wanted a home delivery so they asked me if I'd deliver her baby too.  I ended up having 1 day between the 2 births.   Joel came on Feb. 8th.
Through this contact our families have been good friends ever since.  (Paul's left Guatemala in May of 1994 and have served in Australia and  Argentina and now are in Orlando, FL with Missionary Ventures.)
We came to love Pedro and his family over the years and have appreciated their commitment to the Lord.  Pedro used to go to different places to record the scripture being read in the different dialects.  He even got Vernon to help with the Quiche New Testament that they dramatized.  I think he was an angel in the Gospels and they had him read the book of James.  Pedro was often gone for weeks at a time so he finally had to choose between his work which was an important one to the furtherance of the gospel and his family.  Since he couldn't take his family with him many times, he chose his family.   Now he is involved in going to public schools and doing talks and videos to try to reach young people for God.  Choosing this path was hard because he had a well paying job with Vina and now he is self-supported and at times has difficulty making ends meet but we feel that he made the right decision.
Click here for a link to Vina's website: http://www.vinyastudios.org/en/home/history.php
Click here for a link to Quiche being read:  this is the main Mayan Indian language spoken in Novillero.  http://globalrecordings.net/en/language/48
Anyway, at the end of our bus ride we disembarked, looked around and saw our dear friend Pedro waiting for us with his trusty Isuzu Trooper.  (He has had it for probably 15 years. 
)  He took us home with him where we had a nice reunion with Cristina, Joel and Pablo (their youngest son who I was supposed to deliver but he did not wait and was born about 2 days before we returned from furlough.)
They have 2 daughters who are older than the boys and are married…..we didn't get to see either of them much to my dismay.     (I did do a story on these people a long time ago…..here's their picture when the children were small.)
It was pouring down rain most of the evening but we were cozy in their snug little house.  The girls and I helped Cristina make tamales for the next day for a celebration they were having….their oldest daughter's baby was being dedicated at church.   I had a hard time staying with my job making tamales as I wanted to hear what Pedro and Vernon were talking about….some of their struggles and their decision to stand up for what was right.  We again had to appreciate this brother's understanding of the Bible and Jesus' principles in spite of what it cost them.
After a delicious supper—again a big bowl of guacamole!  Since Cristina was so busy with making the tamales, Vernon and Pedro went and bought fried chicken…..it certainly didn't meet her standard of cooking..she is one of the best cooks in C. A. in our opinion,  but it did hit the spot.
We spent the night there and in the morning Pedro took us up to the Square or Park to catch a microbus out to Novillero.  This is a glorified minivan….Mitsubishi van with a rack on top for luggage.  We crowded into the back of that and on the way found out just how many you can crowd into one of those vehicles.  No, we didn't have anyone sitting on our laps but its amazing how many people can get into one.  Of course, they can't get the door shut after a while and its hanging out  the side after awhile. 
.   We were glad to see our old hometown come into view.
The driver did as he had promised Pedro to leave us off at the bridge in Novillero.  Right beside the abandoned church that we had worshipped in for 13 years.  After greeting Pablo and Rosa Vasquez (Rosa is Victor Ovalle's younger sister) we headed down the street to Lencho and Rosa Ovalle's.
Lencho is Victor's first cousin and one of our oldest son's close friends.  One day back in 2000, our boys told me that a neighbor wanted to talk to me.  Lencho and Rosa came and immediately we bonded.   I delivered Betsabe (Betsy) on Feb. 5, 2001,  and delivered Honoria,  her sister on Dec. 28, of the same year.  (I started and ended up with the same couple that year.)  Lencho is Catholic and his wife was evangelical when they married.  That created a divided household even though they loved each other dearly.  For the sake of peace and allowing Lencho to be the leader of their home, Rosa has joined the Catholic church.    Anyway, in spite of our differences in beliefs we are very close to this family and admire them in so many ways.  In a lot of ways, they have a higher standard than their evangelical neighbors.  We continue to pray that they will be open to God's leading in their lives.  We believe that are sincerely trying to serve Him as best as they know.  ]
Well, I was hoping to wrap this all up today but didn't get it done.  I am going to post a few pictures and try to finish next time.
Here's a picture of a Guatemalan map;  Department of Solola is the little yellow one west of Guatemala City.   Unfortunately it doesn't show how curvy the highways are.  Our children that are living in Guatemala live in the Peten region: the big orange department in the north.  They live in El Chal which is between Poptun and Flores.  Novillero is in the mountains and Peten is jungle.  We lived about 15- 20 miles from Lake Atitlan as the crow flies.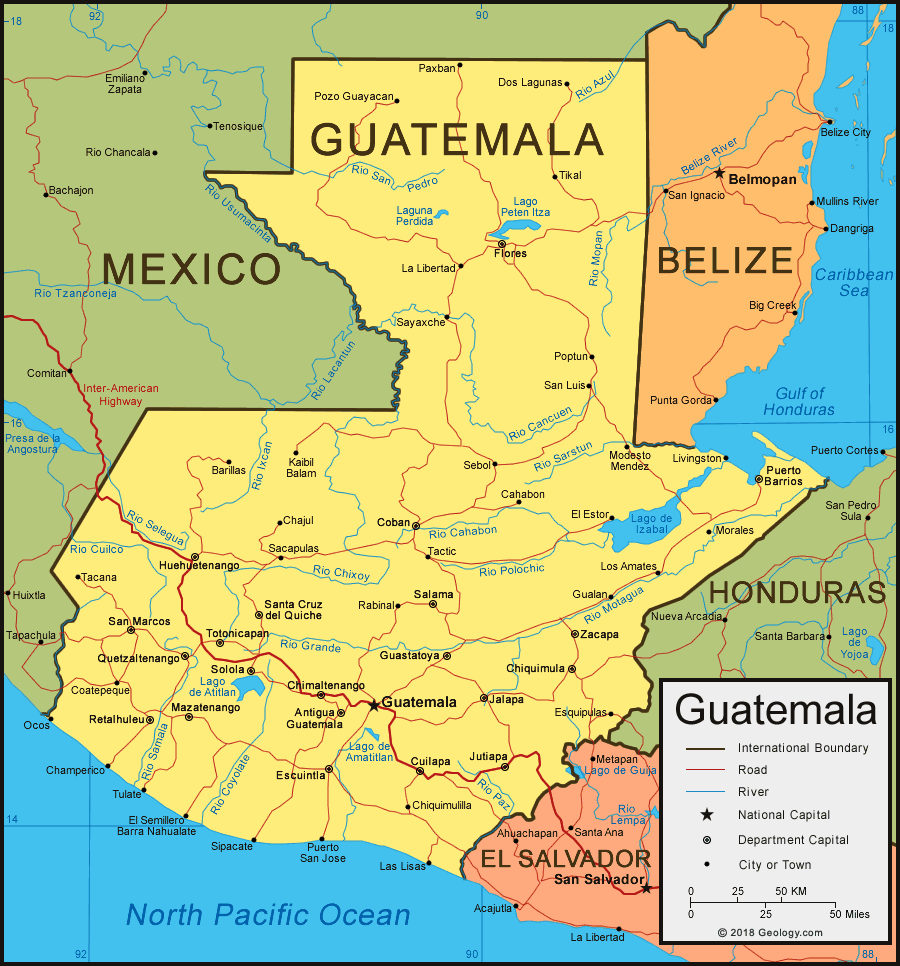 Until next time,  hasta luego.